Notable Moments
In no particular order, here are several happenings that stood out when I thought back on the year. I'm sure I'll think of many more over the next few weeks but I'm only human.
I quit my job and went on tour
with Absofacto. A lot happened. People screamed every time I sang, we went to SEVERAL aquariums, I saw the Grand Canyon for the first time, I started a feminist photo series, I ate the best breakfast burrito of my life, I rolled around the country with my friends for a few months… not bad, eh?
I had a great birthday party
I happened to be home on my birthday, due to a show cancellation in the middle of tour, so we had an impromptu birthday party, and it was perfect. I still sometimes re-watch my birthday serenade because it illustrates the joy and fun of that gathering so well (click through to watch). It definitely sticks out as a top 10 moment of the year.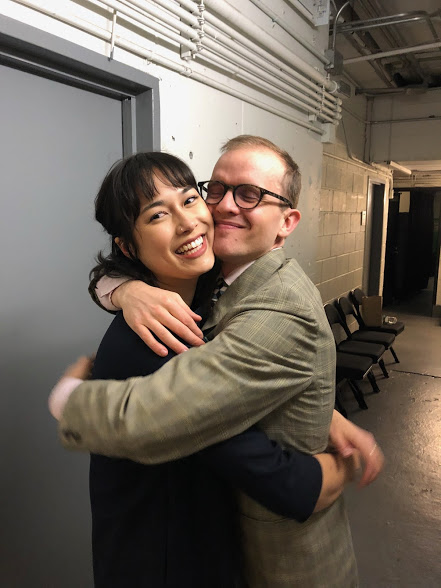 Thanks to friends willing to conspire with me, I surprised Sean by coming home a day early from tour. He was performing uptown with the Arntzen family and I managed to sneak backstage and surprise him in the hallway. He never saw it coming! After such a long time apart, it was a joyous reunion. Plus we went to see Chicken Delicious afterwards and that makes everything better.
I ate all the things in Mexico
Tacos, quesadillas (pictured: short rib quesadilla), huevos rancheros, chilaquiles, guacamole, salsa, tortilla soup, mole, tacos, bone marrow, sizzling bowls of meat, cochinita pibil, tacos, huitlacoche, elote, huevos divorciados, crickets, sopes, street mango…did I mention tacos? I just ate and I'm getting hungry again writing this.
Also drank all the drinks: mezcal, tequila, pulque, micheladas, aguas frescas….
Sean and I did a juice fast after we got home from Mexico, which felt pretty amazing. Going off of caffeine a week ahead of it proved to be harder for me than the actual juice fast (which you get used to). 10/10 would repeat. I thought I took a photo of ALL THE JUICE but I can't find it.
I played my first show as Katie Lee in New York
at Mercury Lounge in May, opening for Michigan friend Luke Winslow-King. I was accompanied by the illustrious Sean Cronin as my duo partner. Jon and Carrie got to attend, as well as some co-workers and friends who hadn't seen me play before. It was a wonderful evening.
And cried. He's so beautiful. Thank you for everything, Bowie.
I found out I have an extra bone in my foot
Sean and I took a ride on the Metro North and adventured at Dia: Beacon (a gorgeous art museum). It was super magical. As we were walking back to the train after dinner, though, I sprained my ankle quite badly (it's really not a Katie year unless there's some injury). I went to my foot guy who told me I have an extra bone in my foot (an "accessory bone," proving that I am very fashionable) and sent me home in a big ol Air Cast. Thus began a healing process that still continues today, though I took the cast off several weeks ago…
Sean and I went to Luna Park
for the first time together, where we both walked away with sore necks after a few rollercoasters. My necklace flew off on one of them. Shockingly, it was found and I picked it up a week later. We went to this little Uzbeki/Korean restaurant afterwards and had some of the best food ever (for pretty cheap) and were the only people in the restaurant.
Andrew, Ella, and I got to surprise Kate with a picnic in Brooklyn Bridge Park for her birthday. Much cheese was tasted, orange and pink wines were consumed, and the best cherry pie ever was devoured as the sun went down.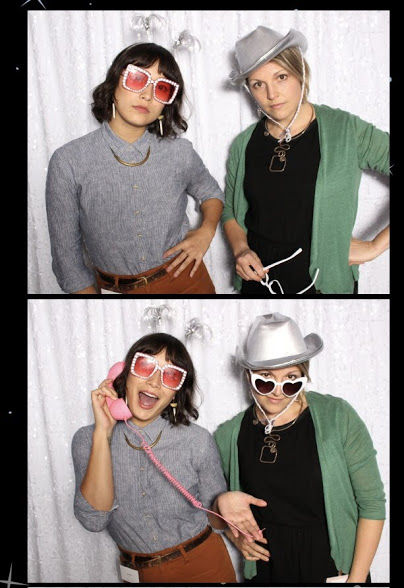 with my friend Emily Asher! Emily had worked previously for another agency booking mostly classical performing ensembles, and decided to start up her own jazz booking agency after parting ways with the other company. And I decided to join her! Now we have Noble + Wylie. It's been a trip learning all of the tedious things involved with starting a company (LLC paperwork! insurance! legal documents! ack!) but we're along for the ride and growing up quickly.

We're pictured here at a networking event looking VERY professional..
Sean and I pulled off at a scenic overlook while driving the Oregon coast. Earlier I had said "wouldn't it be cool if we saw whales?" not really expecting anything. So of course, WE SAW WHALES. HELLO WHALES I LOVE YOU. Whales not pictured here because I was too busy talking to them.
Thanks to Ella, I started biking around Brooklyn for the first time since I've lived here! We did a lot of biking to the BEACH which was amazing and I didn't take any pictures but I'm not mad. That means I didn't need to look at my phone at all. A+
We let go of things that no longer served us
While we were staying out in the country for Labor Day weekend, we did a Burning Man-esque ritual - we all wrote something down that we wanted to let go of and tossed the papers into the fire. As the smoke turned to glowing little embers, we could feel the change coming. And it came.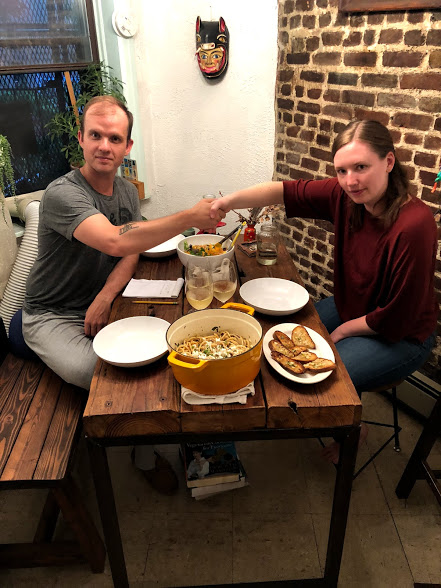 We cooked/ate a lot of "friend dinners"
with various lovely humans and it's been a joyous source of delicious food and wine and friend love and weird movies. Grateful for every new opportunity to try another Alison Roman recipe and snuggle up in one of our homes.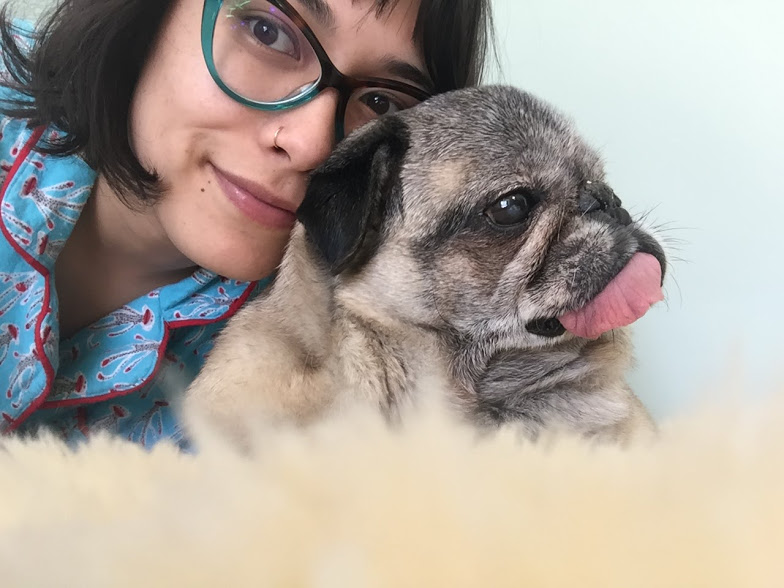 Sadly, this year we had to say goodbye to Eddy the pug. Eddy started deteriorating earlier this year, but his spirits stayed high until the very end. He meant so much to us - and his passing is monumental when we reflect on the way life looked when he entered our home. Mom kept looking for a sign from him that it was time, and when the sign finally came, she gave him the most compassionate exit possible. We'll be learning lessons of love from that dog for years to come.
And we threw her a party despite her initial protesting. It was lovely.
I served on a Grand Jury for the first time. It's hard to explain, and since I'm not supposed to talk about it, we'll maintain a little mystery. It was grueling work, though. "Emotionally challenging" is a rather apt phrase in this case. It's hard to feel like you can change the system from your seat in that court room. It's hard to feel like you know what's going on. It's hard to feel like you're helping anyone. It's hard all around. And I'd go back.

It was really quite amazing to have a relaxed Thanksgiving weekend with Dad and Diane. I am so grateful for their willingness to make things as easy as possible (for everyone) to maximize enjoyment. That ability to be flexible is everything. Thank you.
I hosted a phone bank party at the house through the ACLU and had several dedicated friends come over and call old folks in Florida to educate them on a ballot measure. It was frustrating, fascinating, educational, and worth it. Plus, the ballot measure passed! And I enjoyed voting for SO MANY WOMEN in Michigan. Here's to more work as we forge ahead.
Noble + Wylie had its first big event
at Sotheby's, where my dear friend Ella works. Sotheby's had a big sale featuring the private collection of Barbara and Frank Sinatra, and we put together a little Big Band for them, led by Evan Arntzen as chief crooner for the evening. It went off without a hitch!
Other notable shows/events attended this year:

The Hum: a series of female/non-gender binary performers collaborating for the first time

Your Love Our Musical: an improvised musical about the love story of a couple in the audience. It's pee-your-pants-funny

Nick Cave: unfortunately, Barclays Center is not an ideal place to see Nick Cave, but needs must. He's amazing, inexplicable.

Pete Souza: got to see the former Obama photographer touring his new book Shade with Lynette & Mitch in SF. Not a dry eye in the house.

Star Rover/Tigue: excellent New York bands.

WishWish: our friend Rachel's super rad band that Sean plays in. Sometimes I get to sing harmonies with Rachel and it's always the best thing.

Donna Uchizono Company: got to see a few friends perform an amazing dance piece at The Joyce. Wow, I have to see more dance. Thank you Nola and Natalie!

Kevin Morby: I sat on a couch in the bedroom of a $22 million dollar apartment in the Woolworth Building and listened to Kevin Morby sing Bruce Springsteen songs. Thanks Ella and Sotheby's for that.

The Escher Exhibit in Brooklyn was really quite excellent. I had no idea that Escher made such beautiful lithographs of the Italian landscape, etc, in addition to his ridiculously captivating math pieces. I had an amazing Cuban sandwich after that. I still remember.

Sean and I started a country covers band. Name TBD. Any ideas?

We biked over to The Breeders performing free at Prospect Park. Kim Deal <3

Bill Frisell and Kenny Wolleson at The Stone. Wowie.

We went to an epic Philip Glass concert at Town Hall. By epic I mean four 45-minute sets of NON-STOP INSANITY in the best way possible. Mind-blowing.